Harmony Manual Breast Pump
Harmony Manual Breast Pump
$41.99
Harmony is a single, manual breast pump designed for occasional time away from your baby. This breast pump is a great option for travel or as an occasional back-up to your double electric breast pump. A small, lightweight, and portable design makes transport easy and discreet for convenient pumping at home, at work, or on the go.
Best of all, an included PersonalFit Flex breast shield means more milk faster, when compared to the traditional 90° breast shield. These shields are designed to reduce pressure on the breast and optimize milk flow, giving you more milk faster.
See the complete product details below.
* DO NOT check out using ADD TO CART if you plan to use insurance! Email us here OR call us at 716-725-6370.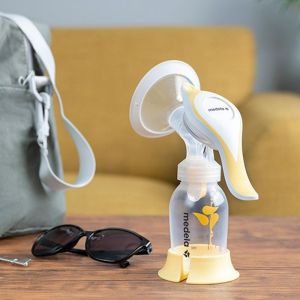 Harmony is a single, manual breastpump designed for occasional time away from baby.
2-Phase Expression® technology is proven to produce more milk in less time.*
The best selling manual breastpump.
What is 2-Phase Expression Technology?
Through research, Medela learned that there are two distinct phases of how babies breastfeed.
Stimulation phase – When babies first go to breast, they suck fast and light to stimulate milk flow.
Expression phase – After milk flow or "let-down" starts, babies breastfeed with a slower, deeper suck, bringing out more milk faster. With this technology, Medela breastpumps work more like breastfeeding babies.
Features & Benefits
Single manual pump: For occasional time away from baby
2-Phase Expression Technology: More milk in less time when pumping at Maximum Comfort Vacuum™ in the Expression phase
Soft-touch, ergonomic swivel handle: For comfort 24 mm PersonalFit™ breastshield: Other sizes available separately
Bottle stand: Helps prevent spills
All parts that come into contact with breastmilk are made without BPA : Safe for mom and baby
What's Included
1 – Harmony breast pump (handle, diaphragm, stem with o-ring)
1 – 24 mm PersonalFit Flex™ breast shield
1 – 5 oz/150 mL breast milk bottle with lid
1 – Valve & Membrane
1 – Harmony Connector
1 – Bottle stand
Instructions for use