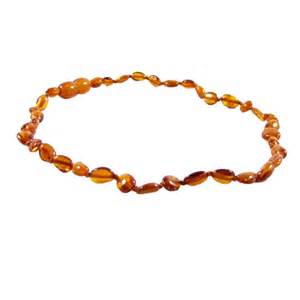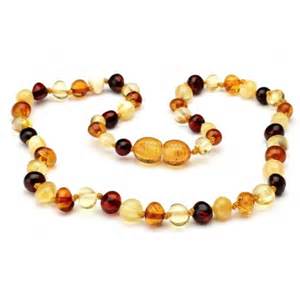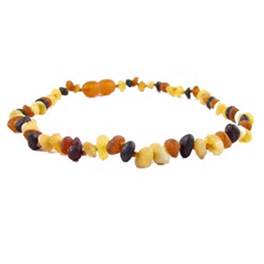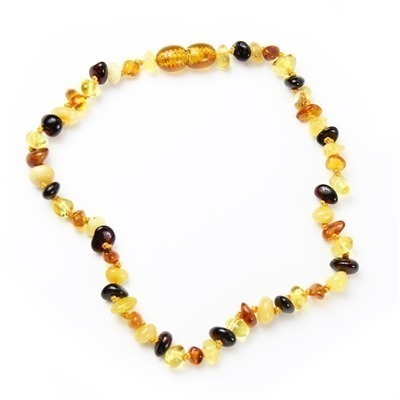 Amber Necklace
$24.95
Genuine Baltic Amber contains succinic acid which is a natural analgesic and has been used for centuries to provide localized pain relief.
The screw style clasp makes taking the necklace on and off quick and easy.
Baltic amber is a natural product so colors and shapes may vary from bead to bead. Yet another thing that makes amber so beautiful!
Please wipe with a clean damp cloth. Do not expose to chlorine, oils or lotions as they can damage the amber.
The small 10-11″ necklace most generally fits a child until 12 months. The 13″ necklace may be needed for a larger child. As the child grows, check the necklace to ensure it is still the correct size. The necklace should fit loose enough around the neck so you can insert two or three fingers but you should not be able to get the necklace above the child's chin so the necklace cannot be put in his/her mouth. The amber beads MUST NOT BE PUT INTO THE MOUTH OR CHEWED. Each bead on The Amber Monkey's necklaces is individually knotted so if the necklace does break, the beads stay intact. Customers have the option of either a screw clasp or a pull-apart clasp. Both are designed to strip and pull open at a minimum 15 lbs pull force for ten seconds to prevent choking if one tugs or pulls on it. As with all jewelry, Baltic amber should only be worn and used under direct supervision of an adult.
The 10-11″ Baltic amber is the perfect size for adult anklets. So as the child outgrows the necklace, the amber can find a new home on mom's ankle.
Following are the sizes and average ages for The Amber Monkey jewelry. However, it is always best to try on the jewelry to ensure a correct fit.
5.5″ – bracelet for up to age 2
7″-8″ – adult bracelet
10″-11″ – necklace for up to age 12 months or anklet for adult
12″-13″ – necklace for 12 months to 6 years old or anklet for adult
Disclaimer: For external use only. Designed to be worn only under the supervision of an adult. Do not put in mouth. This item contains small parts. These statements have not been evaluated by the Food and Drug Administration. This product is not intended to diagnose, treat, cure or prevent any disease.